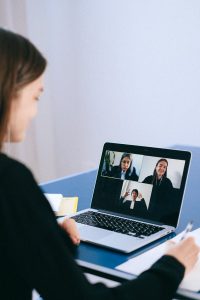 This time last year I published an article about the advantages and disadvantages of on-line/virtual training. Now with many Zoom training sessions under my belt, experience allows a more considered opinion.
I miss face-to-face interaction (like many over the last 12 months). However, on-line training has its advantages and potential cost savings for the client – particularly when participants are spread out geographically.
The stress of travelling (and getting up at dawn) has been replaced with crossing fingers and toes for strong broadband. Lugging training materials up 4 flights of stairs and re-arranging furniture in the training room has been replaced with working out the array of Zoom functions.
What subjects have worked virtually?
Effective Communication Skills
Dealing with Difficult People
Welcome to a Management Role
Positive Appraisals
Managing Change
Why?
Using imagination to bring training to life online for different learning styles
Breakout rooms allow sharing experiences and practising exercises
Participants appear less anxious about group interaction by being able use the 'chat' facility rather than speaking to the whole group
Short, sharp 3hr sessions as a one off or with modules delivered over a period of time, ensure participants are not overwhelmed and learning is imbedded
Now, more than ever, your greatest asset, your people, will benefit from training/development. Rather than wait for the 'new normal' why not discuss your needs either on-line or face to face – my details are below:
Email: annie@muladysolutions.co.uk or Call: 01628 475988/07920 104940